Signs and Symptoms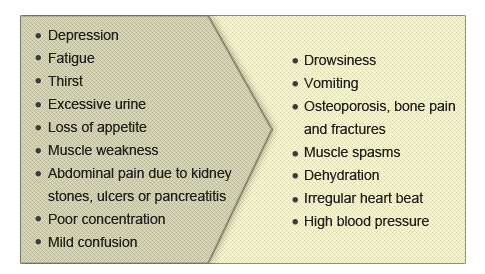 The signs and symptoms of parathyroid disease may vary from mild to severe. Mild cases often escape the attention of both the patient and physician for years. A simple blood test for calcium, albumin, phosphate and PTH will rapidly establish the diagnosis. These can be done by your GP or family doctor.
Treatment
Ninety-five percent of primary hyperparathyroidism can be cured with surgery. Surgery involves removal of the parathyroid adenoma. In rare cases where surgery is not possible, the use of drugs such as bisphosphonates or Cinacalcetmay help.

I work closely with my Endocrinologists to ensure that all patients have been thoroughly evaluated before embarking on parathyroid surgery. The key aspects of this evaluation is firstly establishing a correct diagnosis. Conditions such as familial hypocalciurichypercalcaemia may be confused with primary hyperparathyroidism. Curiously, some patients with primary hyperparathyroidism may also be Vitamin D deficient and it is important to correct this deficiency before one proceeds with surgery.

Secondly, it is important to undertake a Sestamibi scan with ultrasound correlation to localize the offending parathyroid adenoma. Very occasionally, these scans may not reveal the adenoma or worse be misleading. At Mount Elizabeth Novena Hospital, I am supported by experienced Nuclear Medicine physicians who perform excellent parathyroid localization studies.




Parathyroid surgery can be performed through a small incision when localization is accurate. Minimal access surgery using an endoscope allows for precise identification of the adenoma and excision. For open surgery, surgical loupes ensure good magnification of the surgical field. I routinely use either frozen section confirmation of the adenoma or intra-operative parathyroid hormone assay to ensure a high success rate. I also employ intravenous infusions of methylene blue – a method described by my mentor, Mr Nick Dudley of Oxford – for aiding intraoperative identification of the adenoma. Following surgery, all my patients are closely managed by my Endocrine colleagues to ensure a smooth recovery.